Order Here


Explore this section...

The Elbow

Middle-Aged Athletes

The Junior Player

Complete Table of Contents


---
The Elbow
After 10 years away from the game, Jan returned to tennis when he moved to the suburbs with his wife and daughter. "I met a few guys who were at my level, and slowly began to get my game back," says the 40-year-old author, who had been the No. 1 singles player on his high school tennis team. He began to play singles regularly on weekends, and also joined a top-level doubles game one night a week.

But all that tennis all at once put a strain on Jan's elbow. "I couldn't even pick up a racquet. I did the exercises Dr. Levy recommended, and within about a month, I was back playing." Now he's contending for the club championship in both singles and mixed doubles with his wife.
The elbow is an important joint to tennis players not only because of its varied uses, but also because it is a common source of misery. Tennis elbow is usually the main topic of conversation in most tennis clubs. About half of all tennis players suffer from tennis elbow during their playing days. Those in the 35-to-50-year-old age group are the most likely to complain of elbow pain.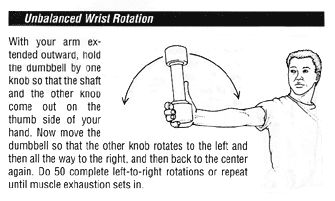 An elbow injury can be especially troubling because it can also be caused by wrist problems. The muscles that control the wrist originate from the elbow's bones. So many of the problems that arise from excessive wrist strain cause pain in the elbow rather than the wrist. Exercises such as the Unbalanced Wrist Rotation shown here can strengthen the forearm and help avoid tennis elbow.



Find out more about the treatment and prevention of tennis elbow in the Tennis Injury Handbook.

$14.95 Paperback · 184 pp. · ISBN 0-471-24854-1

Available online at Amazon.com and BarnesandNoble.com, and at bookstores everywhere.