Order Here


Explore this section...

The Foot

Cycling

What to Look For in a Sports Specialist

Complete Table of Contents

How to Order This Book


---


Cycling

Almost everyone learns to ride a bicycle as a child and owns a bicycle at some point in his or her life. It may be just pieced together, but it has two wheels and pedals and gets you from one place to another. For most children, bicycling is the primary means of independent transportation.

With the emergence of the U.S. cyclists in the Olympics, the prominence of Lance Armstrong in European road racing, the increased interest in triathlons and the popularity of mountain bikes, cycling has become a much more widespread sport. More than 85 million Americans now consider themselves cyclists.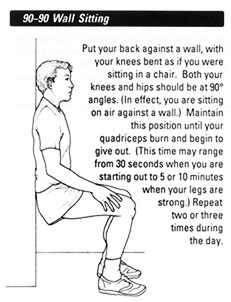 How to improve your cycling
To increase your cycling efficiency, you should work on your leg strength first and foremost, since this is your means of locomotion. One method for strengthening the quadriceps muscles is with 90-90 Wall Sitting (drawing, right).


Cycling injuries
Studies have shown that up to 20 percent of cycling injuries result from collisions with cars. The rest are due to collisions with stationary objects or to the rider being thrown from the cycle. Falls result from skidding on slippery pavement or from hitting a pothole, rut or an object in the road that you don't see in time.








Available online at

Amazon.com

and

BarnesandNoble.com,

and at bookstores everywhere.


Find out how to avoid these common cycling injuries in the Sports Injury Handbook:

Scrapes and Bruises · Broken Bones · Dehydration
Head Injuries · Neck and Shoulder Pain · Backache
Hand Problems · Seat Pain · Penile Numbness · Hip Pain · Runner's Knee · Foot Pain · Stationary Cycling Injuries · Indoor Cycling Injuries

$19.95 Paperback · 284 pp. · ISBN 0-471-54737-9